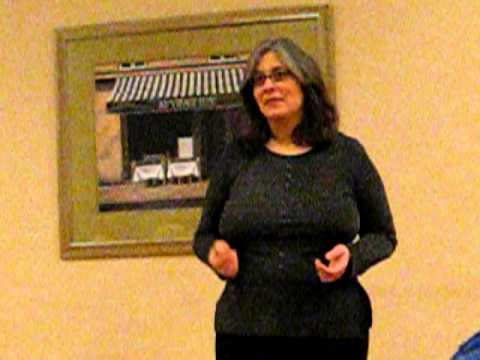 A video of Wendy McDonnell at the Toastmasters Guelph Area International Speech Contest, Spring 2011. The following is a transcript of the speech, copyright 2011. Thanks goes out to Wendy's son Malcolm who recorded the event when he was nine years old.

Musician Pete Seeger once said, "Education is what you get when you read the fine print; experience is what you get when you don't."
I hope to persuade you that experiential learning and asking loads of questions makes education fun and long lasting.
My family has ample opportunities to do that while we homeschool. That's our personal choice. Homeschooling may not be for you. Some schools are already learning from the success of homeschoolers. Perhaps after hearing my story, you will too.
My four children have never been to school and I'm confident that homeschooling is preparing them well for adulthood.
We are learning all the time.
One time it began with a movie.
One night, three years ago, my family watched the "Titanic" starring Leonardo DiCaprio and Kate Winslet. My daughter Sarah fell in love with the beautiful dresses. Sarah and her brother Malcolm were enthralled by the ornate ship and the tragic details.
Eager to learn more about the great Titanic built in Belfast, Ireland, we borrowed every book and video from our local library. We snuggled into bed on cold winter mornings looking at pictures of the wreck, read how she was built, and discussed why two-thirds of her passengers and crew died the night of April 14, 1912. We learned about how deep the Titanic lays and why it was so difficult to find until the Research Vessel Knorr found her in 1985. You know the CN Tower in Toronto? The Titanic lies about 7 CN Towers, that's 12,400 feet, under the North Atlantic Ocean. At that depth, there is no light, so life there is unlike anything we have ever seen.
As luck would have it, the Ontario Science Centre hosted a traveling exhibit of the Titanic. We became museum members. Many museums offer hands on exhibits and interactive activities. We saw artifacts and walked through the re-created decks so that we could see, hear, and feel what it was like to sail on the Titanic. We touched an iceberg. We discussed grief, dying, and responding to tragedy.
As this example shows, we study science, history, geography, and social science while reading, writing, and doing math. My children tell all their friends about what they learn. They write letters to their grandparents. They re-enact history through make-believe. We talk about the Titanic now, three years later.
We are learning together all the time.
We learn by asking questions, not by answering them. We learn when we see a problem, take on a project, and have conversations. We explore from the comfort of a couch, over a meal with my family, or while walking in the woods. My children are growing up knowing each other and I know them.
As far as socialization goes, my children see their friends a couple of times a week. We are members of the Guelph Homeschool Group. We organize and participate in field trips and activities. My children make friends with people with whom they share common values and interests, regardless of age and gender differences. They are learning to negotiate their needs with their siblings who don't share their understanding or skills. They have the freedom to play, discuss what's important to them, and explore the world from many different perspectives.
The Ontario Ministry of Education allows families to homeschool. We still pay our school taxes like everyone else, so the Ministry offers free curriculum support if we ever want it. My children never need to be tested unless we go to school.
I believe homeschooling is one of the best ways to socialize our children for adulthood. I understand that full-time homeschooling is not for everyone. It's a personal choice.
However, learning all the time is something we all do. I suggest you engage your senses: your senses of touch, taste, smell, sight, and sound. Let your curiosity guide your questions and explore. When we do, we ignite our inborn sense of wonder and awe. Learning is play. It's meaningful. It's the basis of story-telling and speeches to be shared with our family and friends so we can all learn together.
John Holt, American author and educator, a proponent of homeschooling, and a pioneer in youth rights once said, "Children are born passionately eager to make as much sense as they can of things around them. If we attempt to control, manipulate, or divert this process, the independent scientist in the child disappears."
Don't let your inner-explorer disappear.